Creating meaningful employee experiences, encouraging continuous learning, and nurturing and developing leadership skills.
Employee Engagement – Hearts & Minds
As an organisation, we are committed to listening, learning, prioritising and improving employee experience in ways that result in ongoing tangible benefits for our people, our organisation and our stakeholders. In October 2021, we launched Hearts & Minds, an organisation-wide employee feedback tool to gain insights into employee engagement and better understand our collective experience at work.
With a participation rate of 96 per cent, survey results highlighted the commitment of our people to be actively involved in their experience as WAPHA employees.
Areas for improvement were noted to be career advancement opportunities, increased two-way communication and acting or doing what we say we will do.
As well as an organisation-wide approach to addressing this feedback, in particular building and retaining the capacity and productivity of the WAPHA workforce to meet future needs and better position staff for their next career move, each team developed their own actions plans to address areas for improvement, customised to meet their team's feedback and needs.
96% participation rate
78% employee engagement score compared to the two industry benchmarks, being Not for Profits Australia at 72%, and Healthcare Australia at 70%
84% of participants were proud to work at WAPHA
82% of participants would recommend WAPHA as a great place to work.
BELONG
As part of the overall People Strategy, WA Primary Health Alliance launched the WAPHA Belong Strategy, a program of learning and events to help our people thrive. Belong is a collection of related and overlapping programs aimed at nurturing the heart of who we are, focused on the four pillars of:
Diversity, Equity and Inclusion
Psychological Safety
Connection and Collaboration
Wellbeing
So far, we have recruited an amazing team of passionate Employee Experience Champions who have coordinated several all-staff events and celebrations, and provided a sounding board for new initiatives and contributing to problem solving cultural issues. We also launched a wellbeing workshop series focusing on resilience and financial fitness.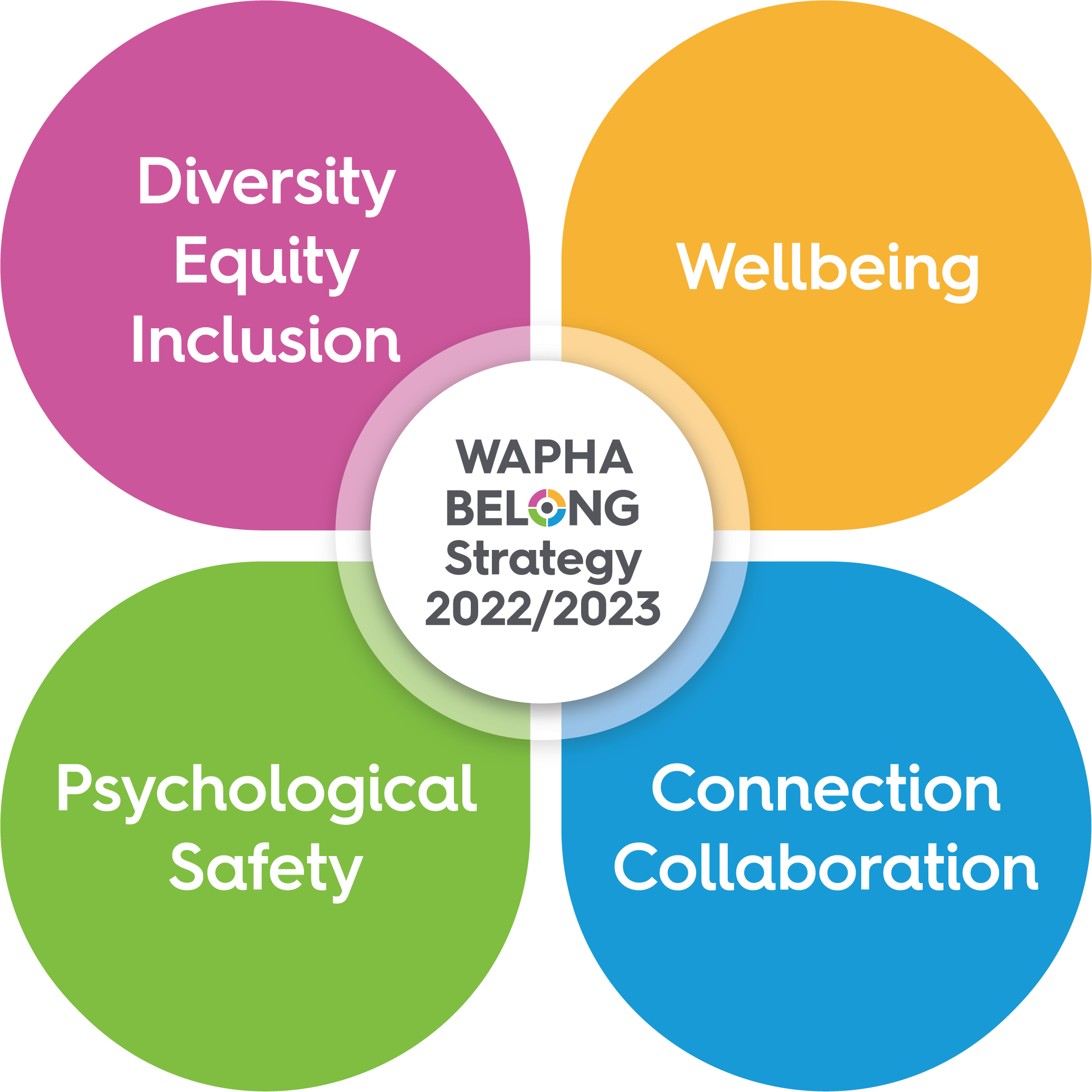 Enterprise Resource Planning – Aspire
To support our organisational growth, we introduced a new enterprise resource planning platform, named ASPIRE. It unites its finance, people and culture (including payroll, recruitment, talent management, employee lifecycle changes, onboarding, learning and development) and contract management systems into a single contemporary, agile system.
ASPIRE is transforming the way WAPHA delivers business services. This means greater flexibility, functionality and access to information for all team members.
ASPIRE has incorporated self-service functionality that provides immediate access to a range of services and information; it facilitates wider information sharing; enhanced data access; and increased transparency and knowledge sharing across the organisation to improve outcomes and the user experience.
COVID Workforce Mobilisation
Throughout the surge in COVID cases as Western Australia's border re-opened, the wellbeing of our staff wellbeing and keeping them informed were prioritised. We created a COVID knowledge hub with up-to-date health resources and information to ensure our workforce had easy access the latest information regarding testing, regulations, general tips, managing COVID-19 guides and wellbeing support.
We gathered key skills information from across our workforce to allow us to quickly re-direct our talented employees to critical tasks so we could continue to support our commissioned service providers, general practices, communities and other stakeholders.
Hybrid Working Model
Among the first organisations in Western Australia to move to remote working in response to COVID-19, this also proved to be an opportunity to think differently and imagine new ways of working. Following feedback from staff, we created a hybrid workplace where we can embed a thriving culture that weaves working in an office environment into working remotely.
We officially opened our new Subiaco office in September 2021, with a customised fit out for connecting and collaborating, with spaces designed to enable coming together and to encourage innovation and creativity.