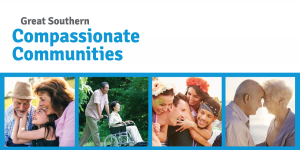 Let's talk about dying, death and loss
If you would like to access an extensive range of useful information to help you, your organisation or your community deal with death, dying and loss follow this link Primary Health Exchange project page 
Communities in the Great Southern are being encouraged to talk about dying, death and loss as part of a project focused on shifting community culture and improving end of life care and support. Compassionate Communities is a whole of community approach to increasing awareness of end of life, and empowering people to live and die well, at home where possible.
The project, which is being delivered in partnership by WA Primary Health Alliance and the City of Albany, is one of 11 being delivered nationally through funding from the Australian Government through the Primary Health Network program.
Compassionate Communities is an international public health project whose aim is to engage broad community support for people approaching the end of their lives. The movement takes initiatives that encourage and enable the whole community to provide care and support to complement those given by health and social service providers.
The Great Southern Compassionate Communities project aims to make our community more knowledgeable about matters to do with death, dying and bereavement; and the care of those affected. Also, to improve access to a broader range of safe and good quality care that will result from this initiative.
A major task for the project will be to influence community attitudes about the end-of-life, and some of the practical issues (such as care) that arise. This will involve thinking and talking about things such as: –
Accepting that death, dying and loss are normal/natural
Thinking through future treatment and care needs
Making an Advance Care Plan to help family, friends, carers and health professionals understand how you would like to be cared for now and in the future.
What practical support might be needed to enable terminally ill people to die at home, and how to support family, friends and carers through periods of caring and eventual death.
Encouraging broader and shared community support during periods of caring and grief.
To find out more about the project and to access an extensive range of helpful resources, visit the Primary Health Exchange project page.
Alternatively, please call Compassionate Communities Capacity Builder Lisa Forward on 0418 127 741.