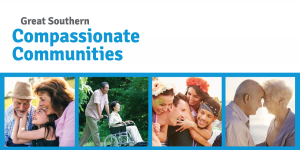 Let's talk about dying, death and loss
Communities in the Great Southern are being encouraged to talk about dying, death and loss as part of a project focused on shifting community culture and improving end of life care and support. Compassionate Communities is a whole of community approach to increasing awareness of end of life, and empowering people to live and die well, at home where possible.
The project, which is being delivered in partnership by WA Primary Health Alliance and the City of Albany, is one of 11 being delivered nationally through funding from the Australian Government through the Primary Health Network program.
We encourage Great Southern residents to share their knowledge and understanding of end of life care by completing a short survey to help inform future community awareness activities of the project. To complete the survey, click here.
To find out more about the project, please call Compassionate Communities Capacity Builder Lisa Forward on 0418 127 741.
Dying to Know Day activities
To learn more about events being held in Albany as part of Dying to Know Day, Wednesday August 8, click here. 
As well as Compassionate Communities and Dying to Know Day activities, there will be a number of My Health Record information sessions taking place in the Great Southern.
Dying to Know Day 2018
My Health Record

Wednesday, 8 August 

10:15-14:15 – Information and talks for carers
– Carers WA, 73 Hardie Road

18:30 – Film  Harvest, The Leisure Seeker
(Orana Cinemas)

Wednesday, 8 August                                                     

16:30-17:30 – My Health Record,
Nyabing Information Session, Nyabing Sports Pavillion

18:00-19:00pm – My Health Record,
Allied Health Information Session, Dylans on the terrace, 82-84 Stirling Tce, Albany WA 6330

Thursday, 9 August 

09:30-12:00 – Morning Tea & Information,
Bethany Funeral Directors, Prior Street

Thursday, 9 August

09:30-10:30 – My Health Record,
Tambellup Information Session, Tambellup
Community Resource Centre

17:30-18:30 – My Health Record – Albany Information Session, Beryl Grant Community Centre

Friday, 10 August – Guest Speakers at Albany Library: 

12:00 – Palliative Care

13:15 – End of Life & Advanced Care
Planning

14:30 – My Health Record

15:30 – Centrelink & Legal Aid – Financial Assistance and Advanced Health Directives

16:30 – Mayor's presentation to poster winners

Death Over Dinner – tickets on sale Albany
Community Hospice

Saturday, 11 August     

12:30-14:30 – Guest Speakers at Albany Public Library

09:00 – DiY Funerals & Death Café

10:00 – Albany Community Hospice

11:00 – Breavement & Grief

12:00 – Death, Dying and Loss Storytelling

12:30-14:30 – Devonshire Tea & Information Amity Rose Funeral Directors, Cockburn Road