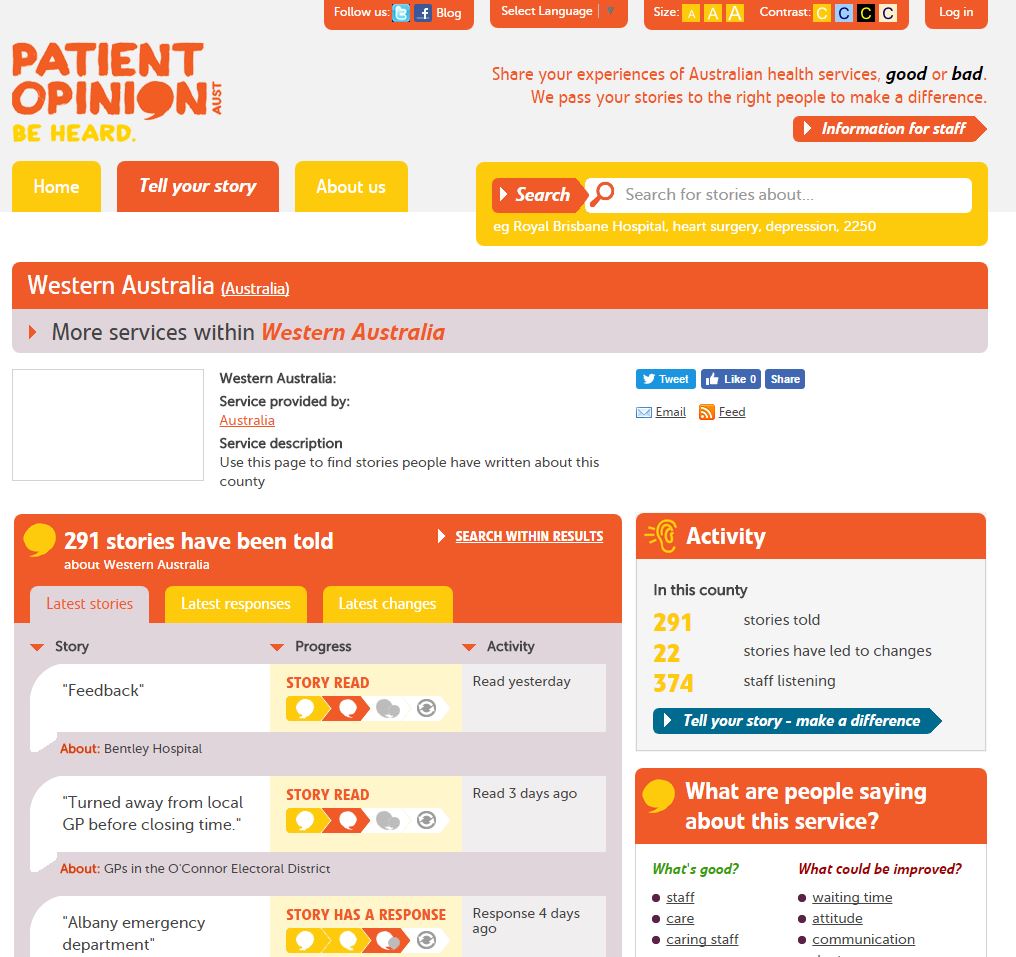 Valuing the voice of people in primary care
WA Primary Health Alliance (WAPHA) believes that the voice of people receiving primary care is critical to inform the continuous quality improvement of services and broader systems change.
What is Patient Opinion?
Patient Opinion is a not-for-profit organisation that exists to help improve health services by providing a platform to enable dialogue between service users and health service providers.  It does this by providing a website where the public can share their experiences of health services.
Members of the public anonymously post a story (positive or negative) about a service on the website www.patientopinion.org.au. The Patient Opinion team moderates all stories to ensure they do not identify any single member of staff and escalates any that need to be responded to through a formal complaints procedure.
Why Patient Opinion?
Patient Opinion supports part of the spectrum of patient experience feedback and monitoring. It is widely used in the UK and has been adopted by all Health Service Providers in WA as part of the WA Department of Health commitment to creating a quality health care experience for every consumer.
WAPHA sees Patient Opinion as an enabler to good consumer feedback practice, supporting a culture in the healthcare system that welcomes and acknowledges feedback – both praise and where there are opportunities for improvement.
Patient Opinion can be a starting point for organisations who do not have established feedback systems or be an addition to more sophisticated and comprehensive approaches to monitoring and responding to compliments and complaints.
Why does WAPHA think that supporting feedback this way is important?
Promoting use of Patient Opinion in primary care makes one contribution towards achieving WAPHA's vision of reduced fragmentation across the health system by helping people who use health services to recognise one consistent method of giving feedback.
Inviting and responding to feedback through Patient Opinion is one indicator to all stakeholders that an organisation values feedback and contributes to a health system wide culture where people are partners in their care.