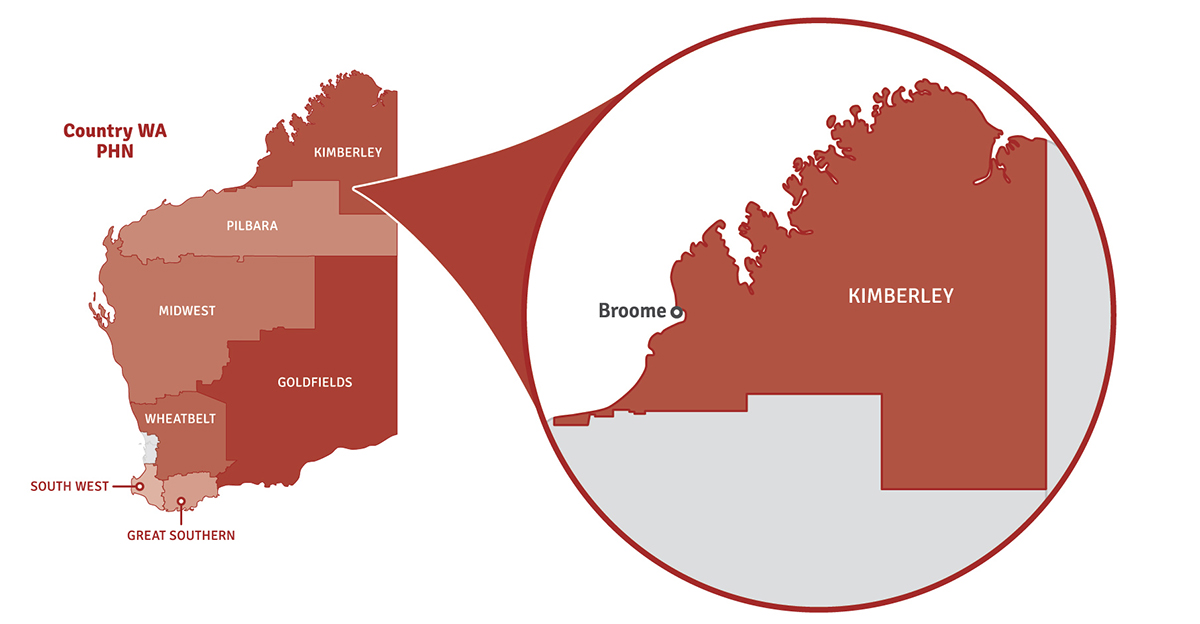 Populations: 40,000 (approx.)
Geographical land area: 419,557.85 KM2
Age Range (2013 1)
0-4: 3,041
5-24: 11,637
25-64: 23,193
65+: 2,019
The region is culturally rich with approximately half the population comprising Aboriginal people that represent more than 30 traditional Aboriginal language groups.
Rural Health West has released a population and health snapshots for Kimberley for 2016. To view this document click here.
Hospitals
Broome Hospital
Derby Hospital
Fitzroy Crossing Hospital
Halls Creek Hospital
Kununurra Hospital
Wyndham Hospital
The population of the Kimberley is widely dispersed.  Broome is the largest settlement with 15 000 permanent residents.  Derby, Wyndham, Kununurra, Halls Creek and Fitzroy Crossing are the largest towns with populations of 3000 to 5000.  Importantly many aboriginal people continue to live in remote communities the most prominent of which include Beagle Bay, Djarindjin/Lombadina, Ardyaloon, Bidyadanga, Looma, Pandanus Park, Mowanjum, Nookanbah and Warmun.
The Kimberley region has a wildly divergent natural landscape which varies from massive savannah grasslands, ancient rugged ranges, world renowned beaches and spectacular tropical gorges. Characterised by its distinct wet and dry seasons, the Kimberley has a sub-tropical climate. The economic foundation of the Kimberley region comprises; agriculture (including the pastoral sector), mining, tourism and pearling.
The Team