Depression is a high prevalence, at times severe and often life threatening mental health disorder. Depression is a major risk factor to suicide, being the second leading cause of deaths amongst adolescents.
WA Primary Health Alliance (WAPHA) is committed to providing leadership for the ongoing dialogue and action around the treatment of depression and anxiety and the prevention of suicide.
WAPHA is implementing The Alliance Against Depression framework within two suicide prevention trial sites; Peel-Rockingham-Kwinana and the Midwest, as part of the Australian Government's investment into suicide prevention across Australia.
Want to get involved?
Find out how to make your community strong, healthy and connected.
Here are four steps you can take now:
Work out who your community is or where your place is.
Think about the mental health concerns your community or place is facing.
Think about what is already happening to keep your community or place mentally healthy.
Take the time to talk to your friends, family or colleagues about all of this.
The next step is to find out more about how the Alliance works and how you can be involved:
Background
WAPHA has adopted the framework of The European Alliance Against Depression, an international non-profit organisation delivering world's best practice in optimising the care of people with depression, anxiety and preventing suicidal behaviour through a community based four-level-intervention framework.
The European Alliance Against Depression is based on the successful experiences from the model region of Nuremberg (The Nuremberg Alliance Against Depression) which resulted in a reduction of suicidal acts (-24% in two years) by implementing the four-leveled approach.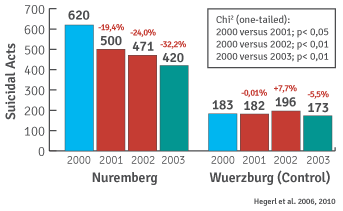 The framework
The Alliance Against Depression framework comprises of four levels of integrated community-based activity including:
increased access to, and improved identification and treatment of depression from primary care general practitioners and specialised mental health professionals;
destigmatising depression, anxiety and talking about the prevention of suicide through a public awareness campaign;
alliance and co-operation with community facilitators and stakeholders; and
support for high-risk patients and their relatives.
These four levels must exist within 'a place' and be truly integrated to have real impact on reducing suicidality. Strong synergistic effects can be expected from a cooperative and comprehensive approach.
Important information
If at any time you, or someone you know feels suicidal, phone Lifeline on 13 11 14. In an emergency call 000 (triple zero). Lifeline is a 24-hour crisis support service.