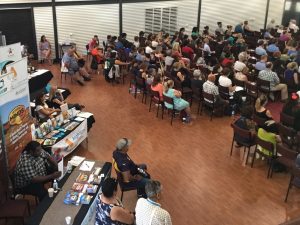 Mental Health was put in the spotlight at the 2017 Rural and Remote Mental Health Conference hosted in the Kimberley recently.
The conference, held from 25-27 October at the Notre Dame University in Broome, focused on the need for sustainable collective impact models of care that are adequately funded by governments.
Key note speakers included Associate Professor Ted Wilkes from Aboriginal Research Programs at Curtin University, Professor Alan Phelps, chair of the National Mental Health Commission, June Oscar, ATSI Social Justices Commissioner to the Commonwealth and Professor Marcia Langton, chair of Australian Indigenous Studies at The University of Melbourne.
The conference also provided an overview to mental health workers about achievements in the Kimberley region as well as the challenges, including the heavy burden of people living with mental illness.
An update was also provided about mental health programs and initiatives being delivered in the Kimberley to address mental health.
The conference, sponsored by WA Primary Health Alliance, was attended by more than 300 people.