My Health Record is going Opt-Out
My Health Record is a national platform for the sharing of patient health information that can be accessed anywhere and at anytime. By the end of 2018 every Australian will have a My Health Record, unless they actively choose not to have one.
Having a My Health Record means your important health information like allergies, current conditions and treatments, medicine details, pathology reports or diagnostic imaging scan reports can be digitally stored in one place. Healthcare providers like doctors, specialists and hospital staff can see these details online from anywhere at any time when they need to, such as in an accident or emergency.
WAPHA supports and encourages the use of My Health Record as an integral part of the emerging digital health framework in Australia. Click on the journey map below to follow Brian on his interactive journey with My Health Record.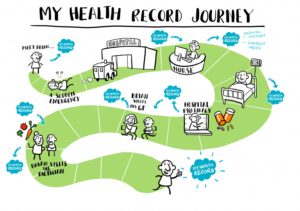 Providers can view and contribute information to patient records using a compliant software package or clinical information system, or obtain view-only access via the Provider Portal. Expand the sections below to find out more about using My Health Record in your practice and supporting materials.
My Health Record Roadshow Webinar
If you happened to miss our Roadshow events you can view the presentations of Dr Steve Hambleton and Dr Monica Trujillo from our RACGP webinar below.